What we're noticing about leadership, teams, and company culture
As the year draws to a close, I'm curious. What are YOU NOTICING? About yourself? About your leadership? Your culture? And, your team?
I always find the end of the year an important time to stop and consider the themes. I love to reflect on what we're seeing in our work with clients and within our own company at Let's Grow Leaders.
Today on Asking for a Friend, David and I share this conversation. And, we talk about two patterns we've been noticing. We would love to hear yours.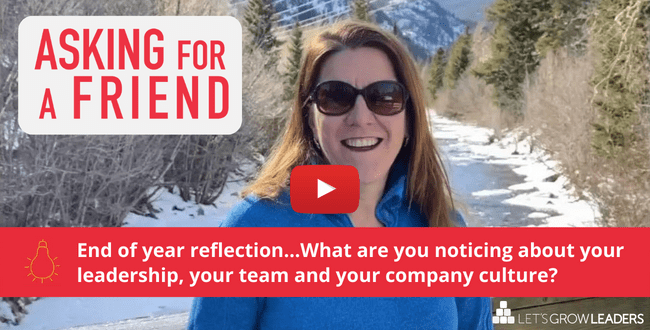 There is considerable value in deliberate, in-person gatherings.
Teams that have been working remotely are now finding magic and renewed enthusiasm as they meet in person. We're noticing additional joy and creativity. We're also noticing a surge of motivation around strategy as they invest in focused time together.  People are truly cherishing collaborative time together.
We've been noticing the importance of this deliberate time together.
Like so many of you, many of our clients have been working mostly remotely for the last two years. And now,  they're adding in-person time. We're seeing more offsites, leadership training kickoffs, executive leadership workshops, and team innovation events. We see a renewed commitment to strategic planning groups. More companies are spending in-person time together navigating the road to success.
We're noticing HOPE is powerful in leadership.
We're noticing hope for a better tomorrow. And, hope that improvement is possible.
We talk a lot about innovation, change, and small day-to-day micro innovations that lead to bigger, better company cultures.
This all starts with hopeful leadership. If leaders don't think better is possible, their team won't either. Improvement projects might lack the momentum needed for success.
What's making you hopeful right not? How are you inspiring hope within your team? What have you learned about hope over the last two years? What are you most hopeful for in the coming year?
If you're looking for more thoughts on hope, David shares even more about healing and hope for humanity in his latest book, Tomorrow Together. When leaders bring genuine hope to their team, it's contagious (the good kind of contagious ;-).
Together, we can build a better future.
YOUR TURN. What are you noticing right now?
Other articles related to leadership, teams, and company culture
Strategic Planning Tool: How to Engage Your Team in Better Conversation