As you know, I'm really passionate about growing leaders. And, we always build a "leaders as teachers" component into our leadership and development programs. In fact, we're excited to be speaking on this topic at the ATD conference in Orlando this May. If you're going to be there too, let us know.
That's why I was delighted to read Dr. Sydney Finklestein's Harvard Business Review article, The Best Leaders are Great Teachers. I immediately got a copy of Dr. Finklestein's book, Super Bosses, and invited him on Asking For a Friend to talk about how to grow leaders as teachers.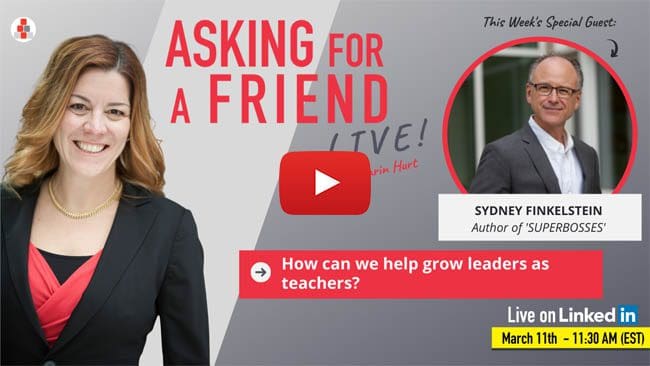 How Do We Grow Leaders as Teachers (highlights and excerpts)
1:40 Source of inspiration
Going back to simple lessons about life such as moving slower. Taking time to really talk with people. Taking a breath.
3:00 What is a "Superboss"?
A Superboss is a leader who creates other leaders.
They have a track record of generating and regenerating talent.
And most importantly, a Superboss is a teacher.
3:54 Three categories of Superbosses
Iconoclast
Creative people who create a following because of their deep talent.
They are leader teachers because they create an environment of interaction and collaboration.
Glorious Bastard
They really want to win. AND, they know they need to surround themselves with superstar talent to make that happen.
If working for a glorious bastard, you have to be all in. The payoff can be big though tough. The career acceleration can be extreme.
Nurturer
This is what most of us think about when we think of a leader as a teacher. This is the leader who really cares about you – who wants you to get better.
8:15 How does a Superboss unleash constant creativity in their team?
1. Model creativity and innovation
2. Allow people to fail for the right reasons
3. Create a culture of experimentation
10:30 Discussing clarity and curiosity (innovation) using quotes from Sydney's book
"Employees cannot innovate in meaningful ways unless they have a frame in which to work – and the Superbosses' fundamental vision provides that grounding."
Superbosses are uncompromisingly open. Uncompromising about the vision, but open to ideas within that vision.
"When Superbosses hire employees they implicitly invite them to buy into their vision and become part of the revolution. But they also invite them to buy into the mindset of openness and innovation that made that vision possible in the first place."
They have an entrepreneurial mindset, always on the lookout for great, untapped talent. They notice underlying skill sets in people no matter the job they currently have.
16:40 Leaders as teachers – How can I be a leader/teacher?
A hallmark of a Superboss is to be a teacher.
This happens in an organic manner, often informally.
They are willing to go the extra step.
They continue to learn themselves.
Superbosses teach professionalism, points of craft, and life lessons which include elements such as:
How you carry yourself
How you communicate, sell, prepare for meetings
Grounding in integrity and ethics
Mindset of innovation
Continuous learning (which provides you more to teach.)
21:48 Practical Techniques for Leaders as Teachers
1. Customize how you work with people on your team. Recognize differences and adapt your approach accordingly.
2. Create opportunities for learning. (This requires delegation.) Find what each member of the team can excel at.
25:47 What if being a Superboss doesn't come naturally?
The follow-up book, The Superboss Playbook, has exercises that can help develop these skills.
Anyone can learn. You have to want to. Have a mindset of giving people guidelines and see what they come up with. Superbosses tend to be 50/50 introvert/extravert.
28:30 Final thoughts about Leaders as Teachers
We only get one shot at being a leader. Why wouldn't we want to be the best we can be?
Your turn. What's your best practice for being a leader teacher?