The best hybrid and virtual teams work on
connection and communication, and stay curious about new ways of working.
The best hybrid and virtual teams don't leave connection and communication to chance. They're consistently asking "How can we do this better?" They spend time communicating about how they communicate AND make an extra effort to build psychological safety, trust and connection.
And, they focus on the fundamentals.
It's interesting how often people will come to us to ask us to help train their leaders on leading virtual teams, when mostly what they need is help leading teams who just happen to be working remotely.
So if your virtual or hybrid team is struggling, be sure you are clearly defining what success looks like, creating a cadence of accountability, and building deep trust and leading with compassion.
6 Habits of Highly Effective Hybrid and Virtual Teams
In this week's Asking for a Friend, David and I share six habits of highly effective hybrid and virtual teams. If you haven't seen our FREE virtual and hybrid team assessment you can download that for FREE here.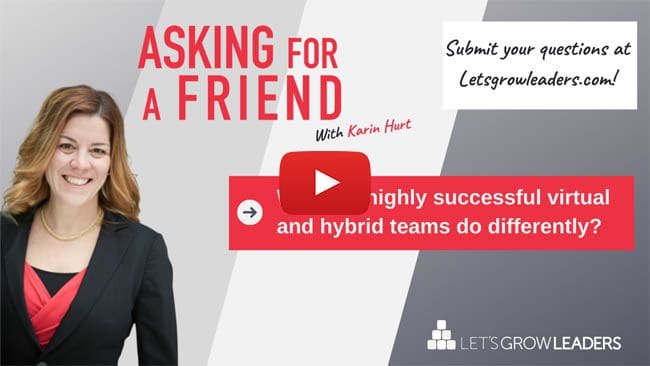 If you've missed these articles, they're also a good way to infuse some fresh energy on your virtual team.
3 Leadership Values to Nurture in Every Member of Your Team
VIrtual One on One Meetings: How to Build Better Connection 
How to Take Charge of your Virtual Meetings