Reading Body Language Can Help You Go a Level Deeper
When Connecting With Your Team
As a human-centered leader, you want to pay attention to what's really going on with your team. Understanding body language can help you know where you can, and should, probe a bit deeper to see how you can help.
In today's Asking For a Friend, I talk with body language expert, Traci Brown as we answer "What body language secrets hiding in plain sight will make me a better leader?"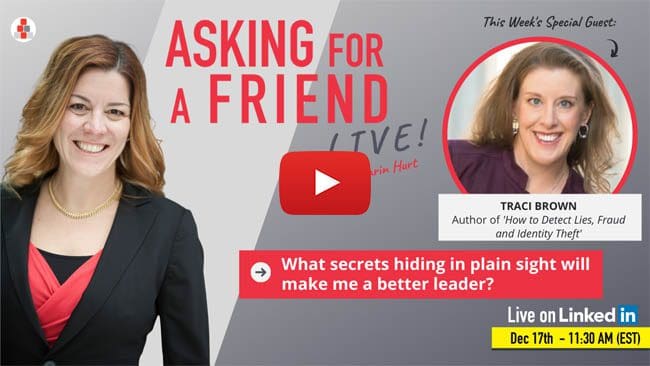 Body Language Insights From Traci Brown
3:30 Watching body language and knowing more than is immediately obvious will help you be a better leader.
3:55 Traci shares some of her favorite cases.
7:05 Body language secrets should leaders be on the lookout for in order to understand what is going on with their people.
Facial expressions and tones when you ask them about their stress level.
Trends and changes in tone, patience, and engagement
Remember that body language, tone, and words intersect in deception detection.
10:00 Some specific body language examples
Nodding while saying "I would never do that."
Veiled sweetness
Shaking head while agreeing.
Open hands – these tend to let you know that people are sharing their truth (even if it's not THE truth)
Disappearing hands should prompt you to dig for more info
17:45 Are there differences in online/remote interactions or with those wearing masks?
Reading someone online works the same as reading in person.
Pay attention to what you CAN see.
There are messages in everything (i.e. when someone wants to keep their camera off.)
Look for pleasure/displeasure.
Rolling lips in can mean holding back emotions or information.
Pursed lips often mean silent disagreement.
Eyebrows going down can mean anger.
Eyebrows up can be sadness.
One eyebrow up can be skepticism.
Showing the whites of the eyes can mean fear.
Emotions are not bad. They are an invitation to go deeper into the conversation.
19:55 What are good ways to learn body language to improve your own?
Is someone telling you that you have a problem?
Quick hacks will not work. You will come across as incongruent.
Long-term, you can improve. Practice matching/mirroring. We are hard-wired to follow others. People buy from people like them.
24:00 How do you watch emotions while also looking at the camera?
Remember that everyone on the call is going through the same problem, so prioritize looking at people's faces. We tend to only look at people in the eye 60% of the time normally. On video, we are looking for an extended period of time, which leads to fatigue. Give people in the meeting a break.
Your eyes should be in the top third of the screen on video. For anything dramatic, it's okay to let the top of your head be cut off a little. Conversely, sitting back and having your face in the bottom quadrant appears less powerful.
28:50 How to stay in touch with Traci Text LIES to 22828
30:00 Last bit of advice: Pay attention differently. It's worth taking the time.