Techniques to Speak Up in Meetings and Ensure Your Voice is Heard
"Hey Karin, I just had my 360 Feedback review, and I heard I should speak up more in meetings. But it's hard. How do I get better at this?" #AskingForaFriend
4 Ways to Speak Up More in Meetings
This question came in from a really good friend of mine, whom I've known for over 30 years. And here's the thing. She's so smart with so much to offer. And, sometimes she holds back and doesn't speak up in meetings. Which is tragic.
So here's my advice for her and for anyone struggling to speak up more in meetings.
1. Start before the meeting begins.
The best way to have more confidence and speak up more in meetings is to be really prepared. Ask for the agenda in advance. Or, inquire about the topics to be discussed and decisions to be made.
A little advanced notice about the conversation gives some time to gather your thoughts and prepare your point of view.
2. Imagine the players at the table.
Before the meeting, picture who will be in the meeting and what could be on their hearts and minds.
Anticipating other people's contributions and ideas can help you be more prepared to jump into the dialogue and add value.
3. Consider your most important points and write them down in advance.
It's easy for conversations to go all over the place in meetings, particularly if you're in a team full of extroverts.
Try writing down your most important points in advance, so when the conversation goes sideways, it's easier to bring the conversation back and speak up more in meetings.
"One idea I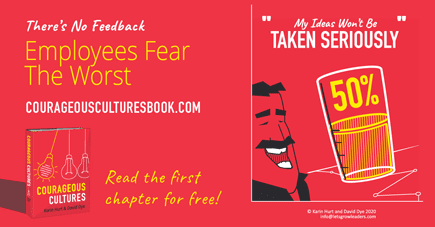 have that I want to ensure we consider before we close is _______"
Or, you can frame it as a question.
"In preparing for this meeting, I've been wondering if we might consider ____. Would that be a topic worth spending a few minutes on?"
4. Position your ideas using our Courageous Cultures I.D.E.A. Model.
If you've read Courageous Cultures, attended one of our leadership development programs, or have hung out much on this blog, you know we're big fans of the I.D.E.A. method for positioning your ideas. This is a great approach to help you speak up in meetings as well.
You can read more about the I.D.E.A approach for positioning your ideas here (or simply watch the video).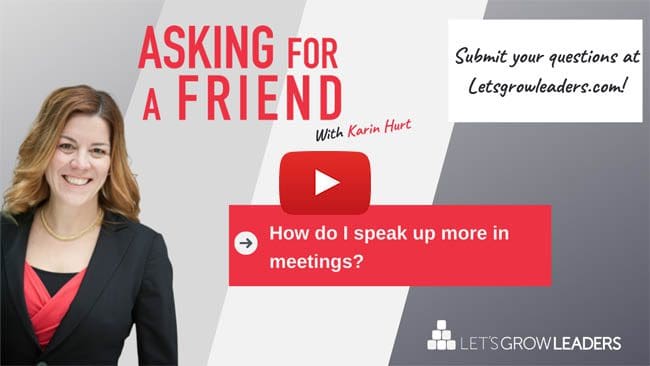 Your turn. What are your best practices for speaking up in meetings?