Think past the PowerPoint Recap For a Better End of Year Meeting.
In one way or another, your team has had an incredible year. And, an incredible year calls for an incredible end-of-year meeting.
Fill in the blank:
This year was incredibly ________(successful, challenging, stressful, unusual)…
Maybe you're remarkably proud of all you accomplished.  Or like most of us, you managed a  crazy Covid curveball that derailed your plans and caused a fast pivot.  Or, perhaps it was one frustration and another, and you just can't wait for the calendar to turn over and start again.
Your team's feeling it too.
Don't throw the opportunity to pause and reflect out with the holiday wrappings. Carve out time to talk about what you learned in an end-of-year meeting.
It's tempting to have a "no one talks about work" virtual luncheon, do the secret Santa thing, and have a few giggles.
Or, to jump right into planning for the new year, "after all the past is behind us."

The best meetings build both results and relationships, and an end-of-year meeting done remarkably well sets the stage for thoughtful reflection and a more energized start to the new year.
How to Have a Remarkable End-of-Year Meeting
Make a CAREful plan and have your best end-of-year meeting ever.
C- Celebrate 
Celebrate both results and the human beings who achieved them.
Be sure your team knows the Most Important Things (MIT) they accomplished in terms of both results and building relationships.
For example, it's not just the 28% increase in efficiency, it's also that they improved the contentious relationship with IT that made the collaboration possible.
If you're doing formal recognition, resist the urge to just pick the top three by the numbers of a stack rank. Consider HOW the results were achieved.
There's nothing more demoralizing to a team than seeing their boss recognize some bozo who gamed and back-stabbed his way to the top. If there's any chance your team will be texting one another "WTF" when an award is given, supplement your criteria to include behaviors that matter.
A-Acknowledge
Acknowledge the disappointments and what you could have done better.
Talk about the effort that may not have paid off the way you would have hoped, and celebrate what did.
When we ask our keynote audiences  "What's one thing you feel underappreciated for at work?," the number one answer is always, "The time I spend developing my people." Acknowledge that too.
R-Renew
Do something to refresh and renew.
One year one of my sales managers took his team bird watching in the local park, before digging into their strategic review.
Another year I hired a caricature artist to do a composite sketch of the team.
Another time, we had a white elephant exchange, but instead of wacky presents, each member of the team brought their favorite business book— people were stealing from one another right and left, and the side effect was a lot of strategic reading and dialogue happening that year.
Most years at Verizon, I brought my team to my home for a planning session followed by a dinner celebration. Find some way to refresh and have some fun along with the reflection and planning.
E-Engage
Engage the team. Ask each team member to reflect on their own contributions in terms of results and relationships this year, as well as disappointments.
If you're holding a small meeting with just your direct reports give them time to share. If you're hosting a larger event, there are lots of fun ways to engage and capture reflections, from sticky notes and grouping themes; to "best of"/"worst of" reflections on index cards collected at the beginning and sorted into themes; to simple polling texting apps, with results projected immediately on the screen.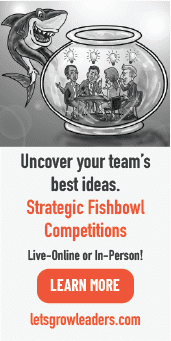 Find a way to get your team's best view of the year into the conversation at your end-of-year meeting.
2021 Virtual Meetings Update
If you're looking to host a 2021 End-of-year meeting or planning a virtual kick-off meeting to start the new year, you won't want to miss Virtual Kick-off Meeting: Why You Should Have One and How to Make it Great.
And our interview in Authority Magazine: Karin Hurt and David Dye of 'Let's Grow Leaders': 5 Things You Need To Know To Successfully Run a Live Virtual Event
Plan a Fast Start to Your New Year
Get your team off to a fast start.
Learn more about our Let's Grow Leaders Strategic Leadership Team Innovation, including our Courageous Cultures "Fishbowl" competitions.
We'd love to talk more about how we can custom-design a perfect end-of-year meeting strategic kick-off meeting for your team.
See Also: How to Hold a Motivational Meeting
The Secret to Great Skip Level Meetings
Avoid This Infuriating Phrases in End-oof Year Feedback
4 U.G.L.Y. Conversations to Have With Your Team Before Year-End