This months topic, collaboration, is particularly poignant for me, as the Frontline Festival has now been an active collaborative adventure including thought leaders around the world for five-and-a-half years.
In March of 2013, while still working at Verizon and having been blogging for under a year, I sent a curious email to thought leaders whom I respected and asked them if they'd be willing to share their very best leadership thinking for frontline leaders.  I was overwhelmed by the response of so many well-established bloggers willing to play along.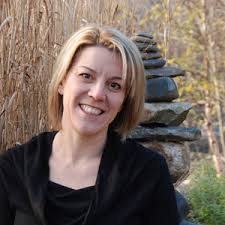 I was a busy executive and an earnest rookie blogger. For grins, you can see my headshot at the time 😉
I could never have imagined how many of those who originally contributed would still be sharing their insights on this our 66th Frontline Festival, as well as all of the new people who would have joined along the way.
Some of you may remember our original Festival branding (see right.)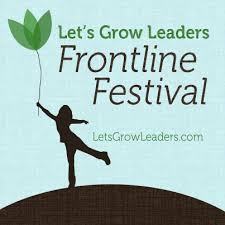 I'm delighted that so many of these contributors have become collaborators in many other ways and some of whom have now become incredible friends. And yes, this first Frontline Festival is the first nugget of collaboration I had with David, who is now my husband, co-author, and business partner.
I have learned so much from all of you. I am grateful for the work you on our shared mission of growing leaders.
You can see the inaugural post here. 
We're always welcoming new contributors. In honor of customer service week, next month's festival is all about customer service. You can submit your blog post URL  here!
Now, on to collaboration!
Thanks to Joy and Tom Guthrie of Vizwerx Group for the great pic and to all our contributors!
Collaboration Tools and Techniques
Julie Winkle Giulioni of DesignArounds writes The Work of ColLABORation. Done well, collaboration looks effortless. It appears to be a fluid give-and-take, a hand-in-glove partnership among individuals who make it all look natural and easy. But these appearances belie the fact that 'labor' is at the center of collaboration… and that most collaboration is the result of very deliberate work and attention.
We particularly love Julie's 3D reflection approach where people are encouraged to reflect on what they need, what the other person needs, and what they most need together.  Follow Julie.
Sean Glaze of Great Results Teambuilding asks, How Can I Get Rid of Silos on My Team? Lack of collaboration (Silo-ing) occurs because of a lack of clarity in terms of expectations…If you set up those expectations, with an organizational chart that shows who everyone is responsible for, those relationships provide clarity and keep communication flowing.  Follow Sean.
Laura Schroeder of Working Girl shares Get Off the Couch: Agility, Innovation and Failure. Collaboration helps drive innovation but how you do it matters. Without a cohesive strategy and clear priorities pulling everyone in the right direction – and clear game rules – collaboration on its own can result in wasted effort and demotivated teams. Follow Laura. 
Collaboration, Innovation and Productivity
Jesse Stoner of Seapoint Center for Collaborative Leadership gives us Let's Stop Confusing Cooperation and Teamwork with Collaboration. Often the words collaboration, coordination, and cooperation are used to describe effective teamwork. But they are not the same. When we use these words interchangeably, we dilute their meaning and diminish the potential for creating powerful, collaborative workplaces. Follow Jesse.
Great insights here about how collaboration relates to vision. True collaboration involves working together to achieve something new.
David Grossman of The Grossman Group provides What Great Teams are Made Of (It's Not What You Might Expect.)  A study found that the time spent by managers and employees in collaborative activities has ballooned by 50 percent or more over the last two decades. The message is clear: paying attention to how teams interact is critical for effective leadership. Research shows that the best and most effective teams aren't those that combined the best and brightest people, but rather, something you might not expect.  Follow David.
Collaboration is like carbonation for fresh ideas. Working together bubbles up ideas you would not have come up with solo, which gets you further faster. ~ Caroline Ghosn
Ronni Hendel of InsightOut Leadership offers New Ways to Navigate the Increasing Complexities of Work.  One of the keys to operating in complexity is recognizing that expertise alone won't get us to the finish line. Collaboration is required. Ronni explores a powerful model for understanding complexity and collaboration. Follow Ronni.
Wally Bock of Three Star Leadership gives us The Team's the Thing and the People are the Team.  For the most productive teams, it's all about the people. Follow Wally.
Collaboration and Influence
As you navigate through the rest of your life, be open to collaboration. Other people and other people's ideas are often better than your own. Find a group of people who challenge and inspire you, spend a lot of time with them, and it will change your life. ~ Amy Poehler
Sophie Blumenthal of Resume Library shares How to Give Constructive Feedback to Your Boss. This post highlights how to give constructive feedback to your boss, demonstrating how collaborating on all levels can be beneficial to employers and employees. Follow Sophie.
Beth Beutler of H.O.P.E. Unlimited offers How to Handle the Workplace Nag. Some co-workers want to "over-collaborate" in the form of constant reminding or following up. Here are a few tips, based loosely on a true story, to collaborate more effectively in that situation. Follow Beth.
Robyn McLeod of Thoughtful Leaders Blog provides Four Steps to Making Office Politics Work for You.  Learn how to avoid office politics, so you can make your daily work life much more rewarding and create pathways for even greater success.  Follow Robyn.
Collaboration and Virtual Teams
Rachel Blakely-Gray of Patriot Software, LLC  gives us Four Ways to Increase Collaboration in the Virtual Workplace. Collaboration in the workplace shouldn't just be encouraged among your in-house staff. Use the four tips in this article to encourage collaboration by your remote employees, too.  Follow Rachel.
Ken Downer of Rapid Start Leadership offers Leading a Virtual Team: 12 Powerful Ways to Lead a Team You Can't See.  Collaboration gets harder as the physical distance between teammates grows. Here are 12 ways to close the gap and improve teamwork even when you are miles or time zones apart.  Follow Ken.
Shelley Row of Shelley Row Associates wrote What a Sailboat Captain Taught Me about Leading in Adversity.  When you are on stormy seas with a small crew on a small boat you need to collaborate with one another to make it through the adversity.  Follow Shelley.
Stories of Collaboration
Paula Kiger of Big Green Pen gives us a book review of What the Eyes Don't See.  When Dr. Mona Hanna-Attisha saw signs of a problem in her community, her questions were refused and minimized. It took collaboration with other caring people to help her get her message across and save lives. Follow Paula.
Scott Savage of Thin Difference offers Learning from Lincoln: How Our Greatest President Invited Difficult People to the Table. The world doesn't get better when we tune out contrary voices and opposing opinions. Echo chambers don't make a better world – collaboration does.  Follow Scott.