Have you ever wanted to take a stand, but kept quiet? Have you had a moment of bravery you found hard to explain? Where does courage come from?
A Courageous Guest Post from Selvia of Glowstone Peak
Karin and David asked me to share some of my thoughts on courage for you grown-ups; which quite frankly scares me more than talking to any Gnobuck. You see, I'm only 40, which is quite a kid in our Nuin years. I mean even you humans know that 40 is the new 20.
I don't have any of this figured out. And I'm terrified of what you might think. Karin says you humans call that the Imposter Syndrome.
But let's be real. I've seen how humans talk to one another on social media. Yikes.  Gnobucks may breathe fire, but at least you can see it coming.
Our story of the recent happenings at Glowstone Peak seems to be helping kids find courage. So,  If I can help even one grown-up be braver, I'm willing to give it a go, So here's my best advice on courage for grown-ups.
One Nuin's Thoughts on Courage For Grown Ups
First, I searched the internet for some of the best human thinking on courage.
This guy, Teddy seems to get it:
"In a moment of decision, the best thing you can do is the right thing. The worst thing you can do is nothing." -Theodore Roosevelt
And there's some terrific research in this fantastic HRB article on Courage.  My favorite insight:
"Learning to take an intelligent gamble requires an understanding of what I call the "courage calculation:" a method of making success more likely while avoiding rash, unproductive, or irrational behavior. Six discrete processes make up the courage calculation: setting primary and secondary goals; determining the importance of achieving them; tipping the power balance in your favor; weighing risks against benefits; selecting the proper time for action; and developing contingency plans."
And then David let me come over and watch a bit of Game of Thrones. You gotta love Bran and his Dad. 'Can a man still be brave if he's afraid?' 'That is the only time a man can be brave,' his father told him."
And Inc. has a cool  list of ideas of how you can "put fear in its place."
Okay. Enough stalling. My turn.
5 Ways to Be More Courageous
Listen to Your Heart
I didn't set out to be brave, brave just happened to me. The best courage comes from caring deeply.
Stay Open to Surprising Support
Taking your first brave step can be remarkably lonely. The people who you thought were on your side might be too scared to help. That doesn't mean you are in it alone.  Karin and David have both told me how this happened to them. Keep looking and stay open. There might just be a helpful gnome around the corner, building his courage too.
Choose Your Timing
There's a big difference between brave and brash. Think well about the best time to make your bold moves. Go slow to go fast. And do your homework.
Stay Focused on the Bigger Mission
I knew what needed to be done–we needed to restore the glowstone.  That goal became more important than politics, dark forests, or even dragons. There is real courage to be found in a compelling mission. What's yours?
Use your V.O.I.C.E. 
Karin and David teach this practical persuasion technique. I've got to say for human-thinking, it's not half bad. Check it out if you're looking for ways to take a courageous stand and have more influence and impact. It might have saved me some time getting those pixies on board.
To learn more about my story, visit Glowstone Peak 
Your Turn: I'd love to hear your stories of courage and inclusion.
AVAILABLE NOW: GLOWSTONE PEAK: A Story of Courage, Influence and Hope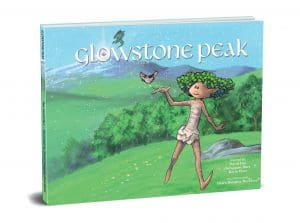 See also:
Why bother Speaking Up (and other destructive thinking)
19 Questions to Grow Confidence in Children
Developing Leadership Skills in Children:  11 Ways to Grow Leadership Skills in Children
Children's Books on Leadership: Questions to Inspire Young Thinking