Your Customer Doesn't Care About Your Internal Scorecard: A Practical Way to Improve Results
Your customer doesn't care about your internal scorecard. If you want to improve your results stop talking about the score.
One Thing That Won't Work to Improve Your Results
Sarah's face winced as the hourly stack rankings beeped through her smartphone. She didn't have to say a word, I knew that look from the inside out. I've been on the frantic receiving end of such beeps. Hourly results coming in 15 times a day–quality, efficiency, sales–all neatly stack ranked as a constant reminder I wasn't doing enough. And just in case the beeps didn't get my attention, at least one or two of the hourly blasts were typically followed up by a call from my boss, "Have you seen the numbers?"
Sarah interrupted my painful flashback. "I'm sorry, but I've got to huddle the team. We've got to get to 94 by the end of the day." "What are you planning as your key message?" I asked. She looked at me as if I was crazy, "94."
When I met with her team later in the day and asked what success looked like, I got more of the same.
"94, 540, and 56." Well, at least they were consistent.
Sarah's message to her team was loud and clear– they had to move the needle on metrics. But talking about a number does nothing to empower or teach employees the behaviors they need to be successful.
To improve your results, see also: 6 Habits of  Highly Successful Virtual and Hybrid Teams
5 Ways Focusing on the Score Lowers Performance
Metrics matter. A balanced scorecard, with well-selected KPIs, will reinforce your strategy and align actions with goals. But when the metrics are the message, the business suffers. If you're experiencing any of these symptoms, check your messaging. Don't let the urgent need to improve your results distract your team from a long-term win.
1. False Sense of Competition
Your competition isn't the team down the hall, your competition is mediocrity.  If, "We've got to beat Joe" is a louder rally cry than "Make a genuine connection with every customer," or ______(insert your most important business behavior here), your smack talk is backfiring and it's time to regroup. Improve your results by focusing on key behaviors.
2. Gaming
I'm always astounded by the creativity and lengths some employees will go to game the system. If they would spend as much time improving the quality of their work as working the workaround, they'd be knocking results out of the park. Talking only to metrics encourages such gaming, which wastes time and often gets people fired.
3. Volatile Performance
You can't truly respond to metrics on an hourly (or even daily) basis. And your reaction is likely more annoying than helpful. If metrics go up when you rant, scream, or dress like a superhero, and then come right back down, take a step back and plan a consistent approach to reinforce key behaviors, again and again– five times, five different ways.
4. Unintended Consequences
If "I fixed this, but broke that" sounds like the sad country music soundtrack of your team's performance, you're likely focused on one or two KPIs, rather than the key game-changing behaviors that will lead to lasting performance. In every business, there are one or two vital behaviors that will improve your overall scorecard. Be sure you're focusing on those early and often, and use them as foundation from which to build.
5. Stupid Decisions
This happens at all levels, but can be particularly disastrous when an executive becomes focused on a short-term adrenaline shot to force up results. "Oh, sure we can bring on 500 people in 10 weeks to get the contract" is not rational thinking. Focus decisions on what will lead to consistent upward trends and sustained performance.
The secret to sustained results over time is identifying the behaviors that matter and executing on them every day. Respond to consistent improvement and celebrate upward trends, not flash in the pan reactions to an urgent call to action.
You May Also Enjoy These Related Articles to Improve Your Results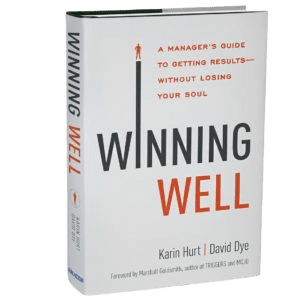 And download the first few chapters of our book Winning Well: A Manager's Guide to Getting Results– Without Losing Your Soul for free here.
How to Encourage Your Team When Results Are Disappointing
How to Hold a Remarkably Effective Team Huddle
Pushover No More: It's Never Too Late to Practice Team Accountability