I'm always asked for interviewing advice– from interviewers and candidates. Of course, you need the basics. Do your homework. Hone your situational-based interview stories and don't say anything stupid to the receptionist on the way in.
But what else?
Here's my very best interviewing advice.
Beyond the Basics: My Very Best Interviewing Advice
Juan and I were sure this was the candidate of our dreams. His track record was solid. The awards plentiful. In fact, we'd already began to wonder if we needed to continue the search. Surely this interview was a formality and would support our intuition.
Thank God. This was our guy. Ahh… that was easy.
But as the interview continued, Juan's face revealed the angst in my heart. Crap. How were we going to justify that this guy's not qualified? We hadn't listed humility in the "required" or even "desired" competencies in the job posting.
We both felt this candidate was a nightmare in the making. He wasn't listening or open. He had a plan and was ready to execute, but had very little desire to hear what we had to say. He told us five times he was the most qualified candidate, and why we shouldn't waste a second more on our job search.
But we couldn't get past the cocky decorum.
Perhaps he really was as good as he said, and all the "me, me, me" stuff was just nervous energy. I'll never know. Juan and I hired the next "best" candidate on paper. She turned out to be a rock star.
I have a mentor who tells anyone interviewing for a job, "This is not the time to be humble." To some extent that's true.
Interviewing is certainly not a time for self-deprecating remarks or uncertainty. Be bold in your ideas, vision and in sharing what you bring to the table.
But–the leaders you really want to work for will also be looking for a humble streak. They want to see that you're willing to learn, can lead from behind, and are open to new ideas. If you're that kind of leader, don't hide those rare and precious qualities.
The best candidates interview with confident humility.
My Best Interviewing Advice: Approach the Interview With Confident Humility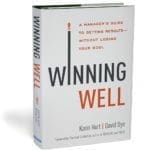 For more see our book: Winning Well: A Manager's Guide to Getting Results–Without Losing Your Soul 
Confidence Says...I'm smart and extremely qualified.
Humility Reveals...I'm eager to understand your culture.
Confidence Says... My skills are highly transferable.
Humility Reveals...I'm open to new approaches.
Confidence Says...I have a long track record of success.
Humility Reveals…I like to surround myself with strong talent.
Confidence Says...I'm a quick study.
Humility Reveals...I'm eager to learn.
Confidence Says…I'm a visionary.
Humility Reveals...Vision is nothing without solid execution. Here's what I've learned along the way.
Confidence Says…I know I can make a difference for your organization.
Humility Asks…If I were in this role, what could I do to make your job easier?
See Also: One Common Interviewing Mistake That Will Cost You Your Job