Leadership credibility is hard to establish and easy to lose. The sad truth is I've seen really good leaders lose the confidence and credibility of their teams by making well-intentioned and innocent mistakes.
5 Subtle Ways To Diminish Your Leadership Credibility
I'm not talking about the big stuff like lack of follow-through or breaking commitments, but the subtle shifts that undermine all the trust you're working to build. Don't fall into these traps.
1. Word Choice
Leaders use dramatic words to create a vision and gain attention. That's good. I'm all for colorful language and exciting words. But leaders lose credibility when the words in play are too big or small for the situation at hand.
I once worked with a leader whose rally cry of the year was, "we're in the fight of our lives."
Now, it's true the competition was fierce, and we needed every brain, heart, and hand actively engaged in the struggle.
The trouble was many in her audience were literally in the fight of their lives in one way or another: the second bone marrow transplant, a dying sister, a son still in Iraq.
I could see these dedicated leaders squirm when she said these words. Sure they knew what she was trying to say, but the words did not inspire the cause.
It works the other way too. Words can be too small. If it's time to be impressed, be impressed.
Don't say, a project was okay when you should have said Wow! 
2. Too Close, Yet So Far Away
Leaders don't necessarily need to be able to do the job of the people on their team, but they do need to understand it. I was talking to a sales VP the other day who was in the long-term relationship sales game. He said his boss was asking him to call his prospects every day to follow-up.
Having had this VP sell to me in the past, I can't imagine a worse approach. Our relationship worked because of deep trust and long-term commitment, nagging would have been an immediate turn-off.
3. Out of Touch
A close cousin to #2, leaders lose credibility when they can't relate to the personal circumstances of their teams. The other day, I heard a customer service VP on stage talking to a team of call center reps trying to inspire great customer service.
She shared, "if you've ever been on a Disney Cruise, that's the kind of service I need you to provide."
These reps were worried about putting food on the table and gas in the car. The sentiment was spot on, but she needed another example.
4. All About Me
Executives often take on an almost celebrity persona.
People will ask lots of questions about their background, career path, advice. It's great to share.
But leaders lose credibility when they talk about themselves without turning the tables and taking a genuine interest in others.
Listen more than you talk. Ask provocative questions. Get to know their background, hopes, and dreams. Provide opportunities for others to share.
5. Strategic Ambiguity
Of course, some strategy and information is confidential. If you can't share, say that.
But masking the truth with spin, far-fetched positioning, and other bologna will diminish your credibility fast. People will see through it and wonder what else, you're not saying.
You're working too hard to build credibility with your team and organization to throw it away with a sloppy mistake. Pay attention to these potential derailers. Get others involved, sometimes they're too subtle to see from where you sit.
Looking to gain more leadership credibility and build trust and connection with your team?
Download the first chapter to Courageous Cultures: How to Build Teams of Micro-Innovators, Problem Solvers, and Customer Advocates for FREE here.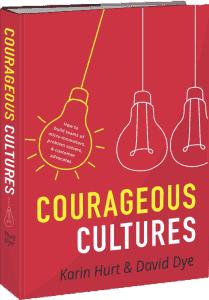 Are you looking for training and leadership development to take your organization to the next level? We can help. Give us a call at 443/750-1249 or reach out to us at [email protected] to learn more.
See Also:
How to Be a More Courageous Manager
How to Gain More Trust With Your Team in the New  Year