Build a Better Connection with Your Boss By Asking These 8 Questions
Your boss is an imperfect human being doing the best they can– just like you.  Help your manager help you, but starting deeper conversations. These eight questions make remarkably easy conversation starters.
Why it's Hard
The manager-subordinate relationship is unnatural by design. We exchange our power for money. We look to a person we have not chosen (whom we may or may not respect) for affirmation, evaluation, and reward.
In order to "succeed," we strive to figure out what will make this human like us, and adjust our style accordingly. We take every criticism to heart even when we don't believe it. And yet, it can be scary to ask your boss what's really on your mind.
Elizabeth's Ask Your Boss Story
Every time "Elizabeth" asks her boss, Carol for feedback, Carol tells her she's "doing great." But this is Elizabeth's 5th year in the same job and she's starting to wonder. She's watched peers who don't seem any more qualified get promoted or selected for special assignments.
Her performance reviews are always solid, but never outstanding. She likes her job and the people she works with, but she's beginning to feel like she's treading water. Her mentor tells her, "just ask your boss," but every time Elizabeth's tried to approach the subject, she's chickened out.
Elizabeth needs to set up a meeting with her boss just on this topic, rather than trying to squeeze it in as a footnote to some other meeting. She should also do it outside the context of a formal performance review. Let this be its own event. Here is an approach, I've developed to help Elizabeth– maybe you will find it helpful too.
Questions You Should Ask Your Boss
Start by sharing how interested you are in her insights. A little flattery can never hurt in this arena 😉 Express your desire for deeper feedback that will help you be more effective for the company. Ask for specifics that will help you identify some new behaviors to increase your effectiveness.
Take it all in and step back and consider the possibilities from the conversation. You don't have to agree with it all, but if you want to open the door for richer insights, it's important that you respond well.
Of course, you don't want to bombard your boss with all of these in one sitting, but here are some options to get the conversation started. It matters less what you ask than just getting the dialogue started.
What's the most important priority for our team this year?
What do your peers say about me?
If your boss were to give me one piece of advice, what would it be?
Who should I be working with more closely?
What could I be doing to make your job easier?
To what do you attribute your own career success?
How can I be more effective in that area?
Which parts of my style concern you the most?
Specifically, what do I need to work on to be ready for ___________ (insert the job or assignment you are most interested in here).
You have more power in your career than you may think.  Take the time to invest in yourself by starting a good dialogue with your boss.
See Also:
Psychological Safety: Why People Don't Speak Up at Work
You can download our FREE MIT Huddle Planner here to help. 
For more career advice, see also 10 Common Excuses That Silently Damage Manager's Careers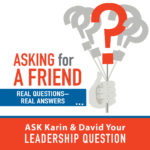 Do you have a leadership question? Click here to submit your questions.